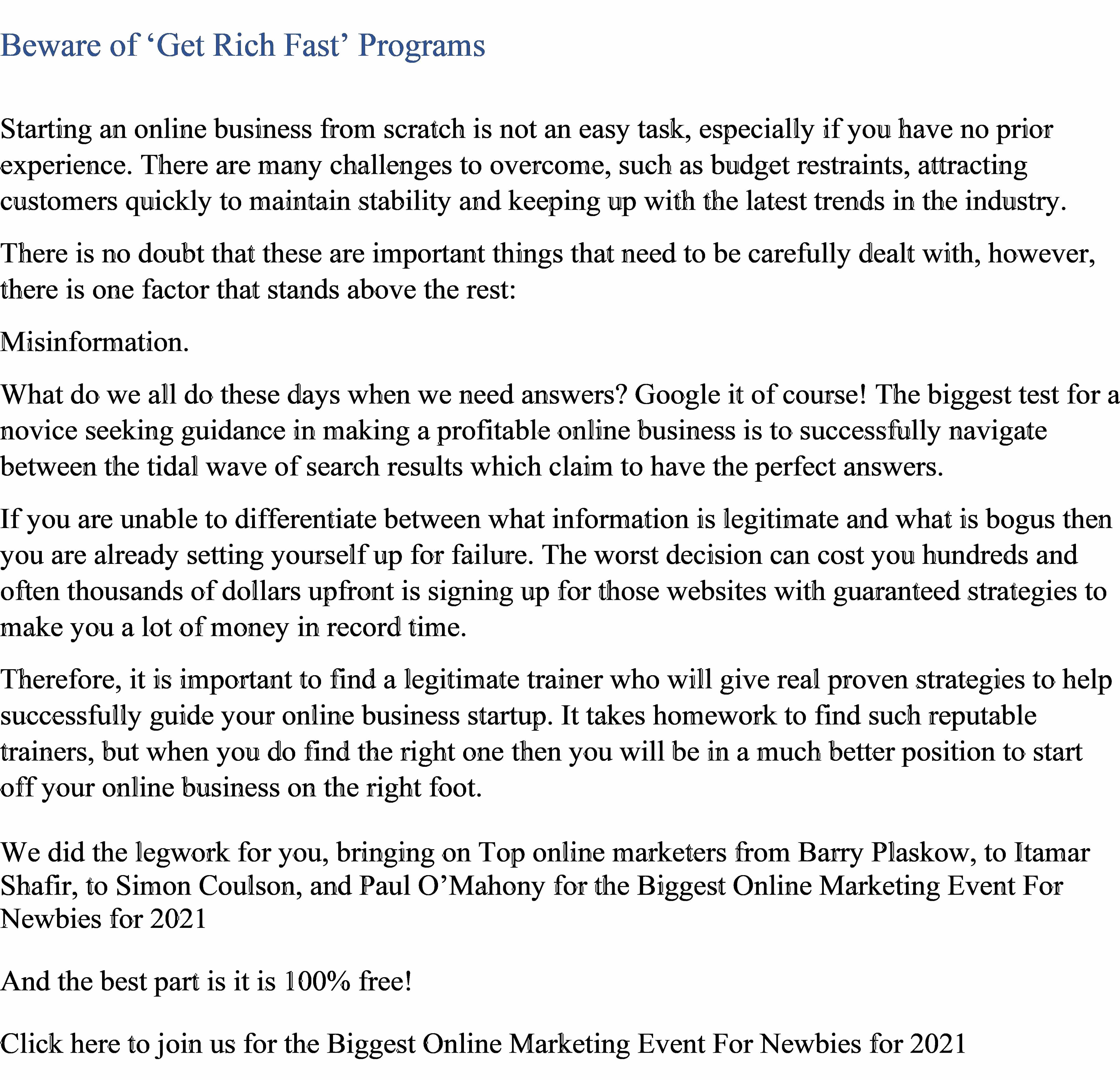 Are you interested in learning about one of the best ways to make money blogging? I'm talking about affiliate marketing for bloggers!
If you're a blogger and want to learn how to make money blogging, you need to learn about affiliate marketing for bloggers.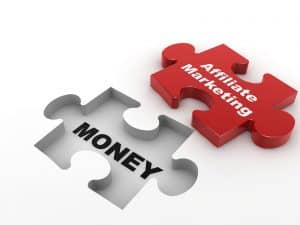 There are many great ways to make money blogging (as talked about here — How I Successfully Built A $1,000,000+ Blog), but my favorite way by far is affiliate marketing.
Earning affiliate income is something that I'm extremely grateful for, especially lately. We have been so busy with life, and I haven't spent as much time on the business as I like to.
Having this passive income source allows me to keep earning blogging income comfortably.
See, even though I am spending less time on the blog, I am still earning a great income each month, and this allows me to focus on a better work-life balance.
Earning affiliate income allows me to travel full-time, explore areas, spend time with my husband and our dogs, all while earning a good income from my blog.
So, to help you start earning money from your blog, today I'm going to tell you what affiliate marketing is and why you'll love it as much as I do.
First, let's rewind a little bit. 
Back in 2011, I was reading a magazine that featured a personal finance website in one of the articles. The website was super interesting as I knew that I didn't want money to rule my life anymore — I wanted to be in control of my financial situation and pay off my student loans.
So, I decided to start Making Sense of Cents as a way to journal and keep track of financial situation. I did not create my blog with the intention of making money — I just wanted to stay motivated about my finances. It was all just a hobby at first, but then I started to earn money for my blog.
Before then, I had no idea what blogs were, how to start a blog, and that learning how to do affiliate marketing for bloggers would change my life. 
It took a lot of work, but in 2013, after a couple of years of blogging, I left my day job and became a full-time blogger. And I haven't looked back once. Learning how to create a blog has completely changed my life for the better, and it's something that I recommend everyone try if they are thinking about it.
If you're interested in blogging and learning how to do affiliate marketing for bloggers, I want you to know exactly how blogging changed my life, so you can start changing yours today. Blogging means:
I now love what I do and look forward to working each day.

I am able to help others improve their financial situation.

It

paid off my student loans.

My husband and I were able to quit our day jobs.

We can retire early.

We now travel full-time.

I have a flexible schedule.

I'm my own boss.

Blogging gives me freedom.
What is affiliate marketing?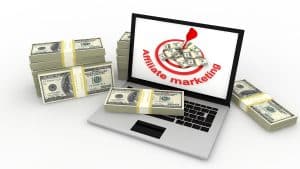 If you're not familiar with the topic of today's post, then you're probably wondering what affiliate marketing for bloggers really is.
Affiliate marketing is when you try to earn money by placing an affiliate link on your website, social media accounts, etc. and have people purchase a product through your link.
An affiliate is a person or business who promotes a product or service offered by other businesses, and you become an affiliate when you promote an affiliate product. Affiliates are given special links to use, and those links tell the company that a customer came from your site.
An example would be Amazon book sales, where you link to a specific book on your website or social media account and try to get people to purchase the book through your affiliate link. Amazon and other companies want quality affiliates under their belt because they want all the help they can get to promote the products and services they are selling.
If you get someone to sign up through your affiliate link, the company rewards you for promoting their product.
This is what is known as a conversion, and it's when a person completes a specific action designated by the affiliate program. It may be when someone enters their email address on a company's website, when they make a purchase, fill out a form, or some other action through your affiliate link.
There are different types of affiliates (online influencers, YouTubers, etc.), but what I'm talking about today specifically is affiliate marketing for bloggers. What's great about affiliate marketing for bloggers is that there are many different ways to share affiliate links with your audience, such as:
By adding an affiliate link to your blog (you can do this by inserting a link within a blog post, page, email, etc.)

Promoting it on social media

Sharing it in a podcast or webinar

And more!
Note: I recommend checking out my online course for bloggers, the Making Sense of Affiliate Marketing course. I earn over $50,000 a month through affiliate marketing and share my exact strategy and tips in this very informative online course. If you're a blogger, then you NEED this course. This course covers affiliate marketing for beginners to those who are more advanced. 
You'll learn so much important information in this course, from how to get your blog ready for affiliate marketing, the best affiliate programs for bloggers, and how to apply to them.
How did I get started with affiliate marketing?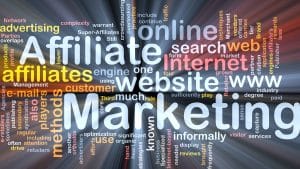 I'm going to be completely honest with you. When I first started with affiliate marketing, I had no idea what I was doing.
I had been interested in affiliate marketing since the beginning of my blog, but I never thought it would be possible for me. I always thought that you had to have a huge following and a ton of page views in order to be successful with affiliate marketing.
Well, one day I decided to give myself a goal of earning affiliate income. I had to do hours and hours of research, but it helped me work towards achieving my goal. I started by making a little bit of money each month, and then it just continued to grow month after month. I now know that you don't need a ton of page views or a huge following in order to make a great income through affiliate marketing.
Now, you do have to enjoy and believe in the products you are promoting. But, if you do, then promoting those products to your audience is a no-brainer. Of course you would want to tell them about products that can help them in their daily life.
Think about it this way: If you already enjoy a product, why not get paid to promote it?
If you want to learn more about affiliate marketing for bloggers, I recommend getting the free guide 10 Easy Tips To Increase Your Affiliate Income, which is a Making Sense of Affiliate Marketing free download. With this time-saving cheat sheet, you'll learn how to make affiliate income from your blog. These tips will help you to rapidly improve your results and increase your blogging income in no time.
Here are 8 reasons why I love affiliate marketing.
1. Affiliate marketing is somewhat passive income.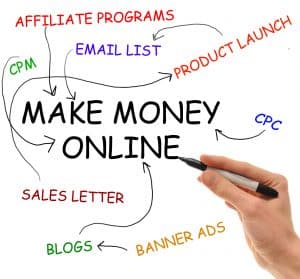 Affiliate income is great because you can create a post, review, etc., and you may earn money from that post years down the line with minimal work needed to maintain it.
But, affiliate income is not entirely passive. 
You will need to build a following, consistently publish content, build trust, and more. Those things take time, but once you do the work, it's possible to continue earning income from one blog post or affiliate link.
In fact, I've earned over $500,000 from a single blog post — How To Start A WordPress Blog On Bluehost. 
2. Blogging is a lot of fun.
Before I started blogging, I never gave it a single thought. I didn't even know that blogs existed, let alone that it would be fun.
Now that I've been blogging for several years, I can't imagine my life without blogging.
I enjoy helping people improve their financial situation, reading blog posts from others, finding new people to talk to, working on my blog, and writing especially.
I love waking up each morning to work on my blog, and I no longer dread work like I did when I had my day job. Blogging is both challenging and rewarding, as there is always something new to learn and you can reach many people through your blog. 
3. There's less work than creating your own product.
Affiliate marketing for bloggers isn't easy, but there are things you don't have to worry about when comparing affiliate marketing to other types of blogging income, like creating and selling  your own product.
Many bloggers skip over affiliate marketing. They either think it's too hard, that it's a waste of time, that they will turn followers away, or that their followers just won't be interested.
But with affiliate marketing, you don't have to ship anything, create the product, handle cancellations, manage customer service, and more. Yes, you will have to build your following and earn your readers' trust, but it can be a great way to increase your income, especially if you already have loyal followers. 
4. Affiliate marketing for bloggers is affordable to start.
The affordability of affiliate marketing is another reason it's a great way to grow your blogging income. 
It is relatively cheap to start an affiliate marketing business. You can spend as little as you want, which is exactly how I started.
You don't even need a website, as you can start promoting affiliate products on social media accounts such as Facebook, Twitter, and Instagram. If you do decide to have a website, that can also be relatively affordable, because starting a website doesn't have to cost an arm and a leg.
Blogging is a very affordable hobby, side hustle, or business to start after all.
If you are interested in taking the steps to learn how to create a blog, I have a tutorial that will help you create a blog of your own for cheap, starting at only $2.95 per month for blog hosting (this low price is only through my link). In addition to the low pricing, you will receive a free website domain (a $15 value) through my Bluehost link if you purchase at least 12 months of blog hosting.
This means that you may be able to start your blog for less than $50 a year. I started my blog for super cheap. I paid very little for blog hosting, I designed my blog myself (even though I had no experience ever doing something like that), and more. I did pretty much everything myself so that I could save money. It was a learning experience, but it was well worth it. 
5. There are so many different affiliate programs for bloggers.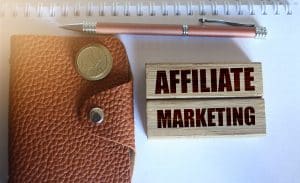 When you promote affiliate links on your blog, it's important to promote products that you love and that are relevant to your website or niche. Some bloggers may worry that it would be difficult to find affiliates that fit their site, but there are so many different products, services, and companies to promote. There really is something for everyone!
Here are different types of products you can promote to your following:
Financial companies

Cell phone apps

Digital products, such as online courses, ebooks, and more

One of the millions of items on Amazon

Travel booking websites

Blog-related products, such as website design, website hosting, and more

Clothing

Home decor

Craft items

Outdoor gear such as bicycles, tents, backpacks, and more
Just because there are so many different types of affiliate programs, don't think that affiliate marketing for bloggers is a get-rich-quick scheme. It's not, at all.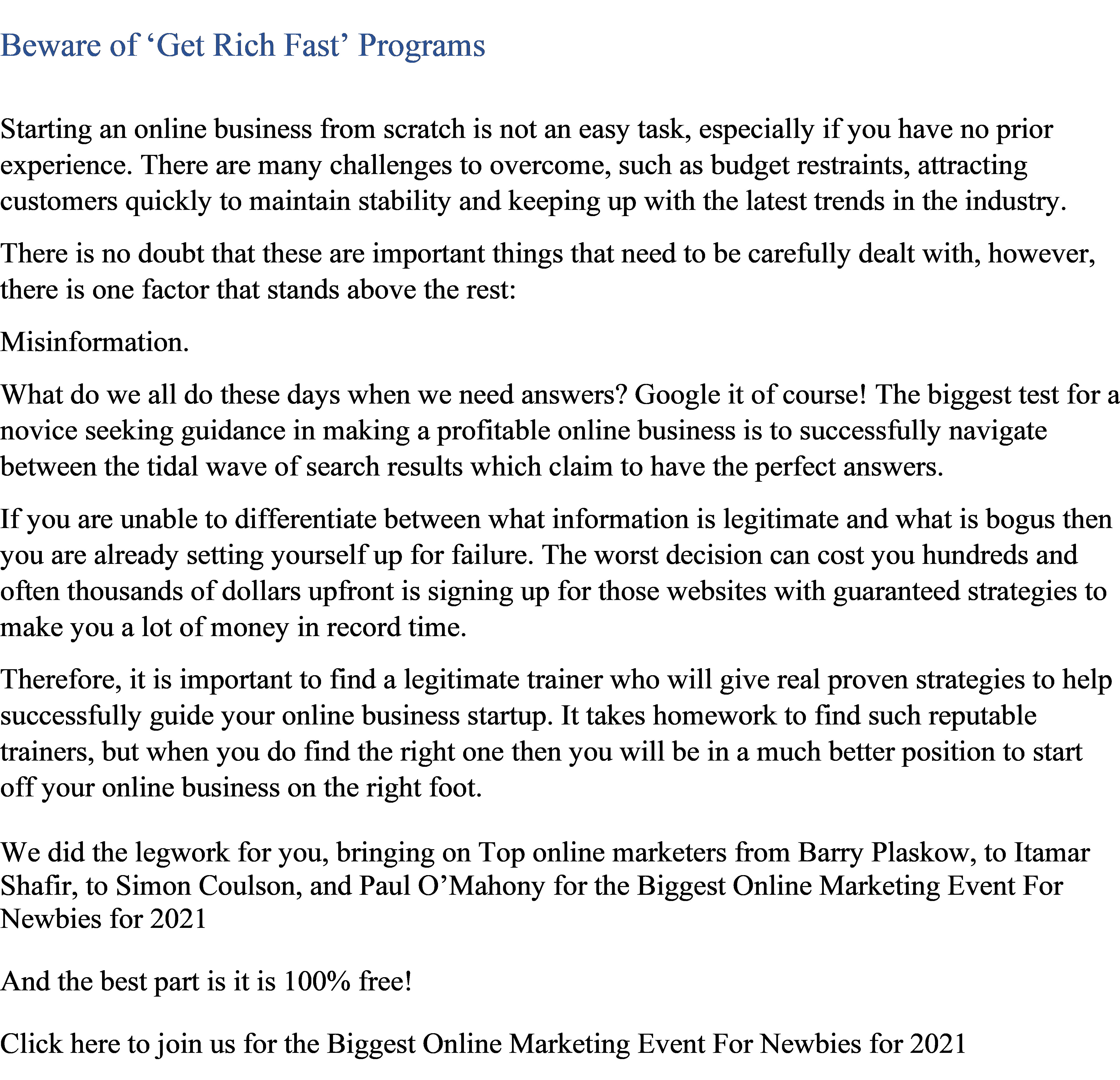 Like I've already said, you will have to build a loyal audience who trusts what you have to say, and this is not always easy. However, if you are able to build a following that is interested, then you may be able to earn a great living promoting products that you already enjoy and believe in.
6. You can be your own boss.
This reason is short and simple, but one that I know many people will love — with blogging, you can be your own boss.
This is a huge positive of blogging. You can decide what type of business you run, your schedule, your goals, and more. 
7. You don't need previous experience to be successful.
In order to become a successful blogger, you don't need any previous experience.
I'm proof of that because I honestly didn't even know that blogs existed when I started Making Sense of Cents, and I definitely didn't know that bloggers could make money. I learned how to create a blog from the bottom up and have worked my way to where I am today. It's not always easy, but it's been rewarding!
With blogging, you'll have a lot to learn, but that doesn't mean it's impossible. It's challenging, but in a good way! 
8. You can work from anywhere.
One of the best benefits of affiliate marketing for bloggers is that you can do it from anywhere. As long as you have a loyal following, a laptop, and an internet connection, you can grow your affiliate income well into the future.
Due to my blog, I am able to travel full-time on our sailboat. While it's great for all bloggers, affiliate marketing for travel bloggers makes perfect sense!
Do you have a blog? What's your favorite way to make money blogging? What else about blogging and affiliate marketing would you like to learn about?
The post 8 Reasons Why I Absolutely Love Affiliate Marketing For Bloggers appeared first on Making Sense Of Cents.
You don't have to be great to start, but you have to start to be great.
~ Joe Sabah
Don't be afraid to take a big step. You can't cross a chasm in two small jumps.
~ David Lloyd George
The superior man acts before he speaks, and afterwards speaks according to his action.
~ Confucius
Related Video Program
eToro™ – Gain the confidence you need to trade crypto?
Learn More about eToro™- Gain the confidence you need to trade crypto? here: Click Here Now!
Related Training Program
What is the Wealth Building Way Academy
Learn More about Wealth Building Way here: Click Here Now!
The Wealth Building Way Academy is a Free Video Training
Course Available only to our Readers and Subscribers. Its
A thorough and detailed training available to you. Find
out more about it here. Click and Learn.
Related Articles


Announcing Your New 21st Century
Golden Retirement

Dear Trader,
Follow me on what could be the most exciting and rewarding adventure of your life!
"I guess you could call it a hobby for me because I do enjoy doing it.
But it's also a job, because it provides an income source. So it's a job
that I enjoy doing. And it can be very exciting."
Dr. Jack, Hilton Head, SC –Retired Optometrist
"For me it's income in excess of $150,000 a year… Spending just a
few minutes a day… And I can do it right on my phone from just
about anywhere!"
Craig F., Central CA — Retired Program Director
"I'm averaging over $10,000 a month. We went on cruises to Nova
Scotia, the Mediterranean, Alaska… And I was able to help two of my
children buy homes. We couldn't have done this before."
Rod W., Atlanta, GA Retired Pharmacist
Health, wealth, and happiness go hand-in-hand…
Click here to find out how you can potentially ignite all three!
Sincerely,

Chuck Hughes
PS Imagine if it were possible for you to enjoy a 6-figure income… PLUS
increased mental & physical vitality well into your '90s… CLICK HERE