FOUR STOCKS TO OWN BEFORE THE US ELECTIONS – A FOLLOW UP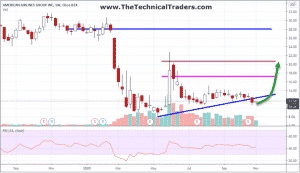 On October 24, my research team and I highlighted four stock symbols we thought would do really well after the US elections. Today, we're going to follow up on these calls/predictions and see how these four stocks are doing.
The first stock symbol we suggested had a good opportunity to rally in the weeks and months after the US election was American Airlines (NASDAQ: AAL).  We believed a new stimulus package would help to boost Airline price levels and sustainability.  With the current post-election chaos, we still believe the US congress will focus on attempting to pass a stimulus package supporting consumers and essential services (like airlines).  It seems very likely that AAL will rally to levels above $15.00 over the next few weeks and months with our targets near $17.25 & $20.65.  Currently, AAL is just 8.5% below our trigger level (executing a "washout-low" price rotation)….Read the Entire Article (click here)
Are Junior Silver Miners Setup For A Big Rally?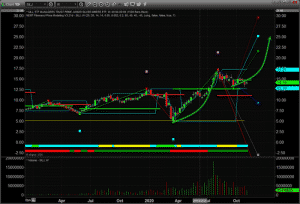 Last week, we published a research article on Silver Junior Miners that garnered quite a bit of attention. We received quite a few positive comments and questions from our friends and followers. This time, we wanted to dig a little deeper into the cycles and price setups that are currently setup in the Silver and Junior Silver Miners ETFs. It may seem odd to some readers, but we believe the uncertainty related to the US election and US policy over the next 6+ months could present a very real opportunity for skilled technical traders.
First, if you missed the previous analysis and trade idea in the Silver Junior Miners article from November 2, please follow this link to review our earlier research which has some important points you should know.
That research article from November 2 suggested a Pennant/Flag formation on the longer-term Monthly chart would prompt a large upside price move once a potential "washout low" pattern setup. The election day trend in Gold and Silver prompted Silver Miners to move a bit lower – which is what we suggested would happen in the November 2 article. Now, we're going to highlight two incredible longer-term setups in Silver Miners that may result in almost immediate profits over the next 4+ months…Read the Entire Article (click here)
WILL THE SP500 PENNANT FORMATION LEAD TO A RALLY OR ARE WE HEADED FOR A DOUBLE DIP?
Chris joins The Korelin Economics Report to discuss broad market trends to expect after the election is settled. We are already seeing money flow into markets broadly today as investors hope to have the election uncertainty behind them. We discuss several different scenarios including the SP500 pennant pattern with a potential 34% rally and the relationship between gold miners and the broad markets.  Please listen to hear more of our targets and technical analysis..Read the Entire Article (click here)
SPY CHANNELING LOWER AHEAD OF NOVEMBER 3 – WATCH FOR THIS SUPPORT LEVEL TODAY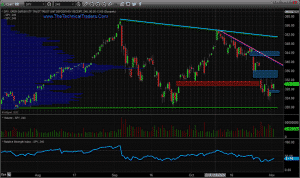 From a simple technical standpoint, we've seen a number of recent breakdowns in the SPY related to Fibonacci Price Theory and Price Gap Theory.  One of the most critical components of the recent 60+ days price activity in the SPY is the failed new high on October 12.  This failed attempt to rally above the previous high price level, near 358.82, suggests a broader market price decline has setup (a downtrend).
After the failed new high peak on October 12, a series of new downside price gaps can be seen in the SPY chart below as price accelerated downward.  These unfilled price gaps represent price acceleration to the downside and will eventually exhaust – creating a new momentum base/bottom….Read the Entire Article (click here)
Four Stocks To Consider Buying Before The US Elections
Our research team put together this list of stocks to help you understand how to attempt to target strategic gains between now and 30 to 60 days after the elections. If you have not been paying attention to what is happening in the markets right now, be sure to read to the end of this report.
If you have not already prepared for the election event, and the pending chaos that is likely to happen after the elections, you better start doing something to protect your portfolio right now. Leaving your portfolio exposed in the moderate to high risk sectors in your IRA or 401k could result in some wicked risks to your total capital if you are not cautious...Read the Entire Article (click here)
LATEST GOLD, SILVER AND PLATINUM ANALYSIS
Join host Mark Yaxley on 'Inside The Vault' as he interviews Chris Vermeulen, Chief Market Strategist for The Technical Traders. Chris walks through the charts and provides his analysis of gold, silver, and platinum, which are all showing positive trend lines. Chris also forecasts potential highs and lows for the next phase of the precious metals bull market. Click below to watch the interview...Read the Entire Article (click here)
STOCKS ARE STRONG BUT BE AWARE OF THIS CONTINUING PATTERN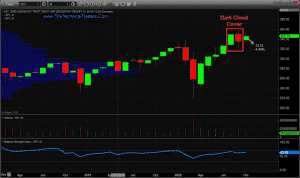 The last 6+ trading days before the US elections could result in a confirmation of last month's SPY Dark Cloud Cover pattern or a potential Harami pattern setup. What does this mean for traders and investors?
The Dark Cloud Cover pattern is a very ominous potential Top/Sell trigger in Japanese Candlestick terms.  It is a fairly common pattern, like the Engulfing Bearish pattern, that manifests near major peaks in price. The one thing that really stuck out with the current Dark Cloud Cover pattern on the Monthly SPY chart was the size of the pattern.  The current Dark Cloud Cover pattern on the Monthly SPY chart spans 39.56 points (nearly an 11% price range).  Comparatively, this pattern is very large compared to the more recent price peak ranges.
Over the past 30+ days, we've published multiple research articles related to the core technical elements of the SPY chart and the Dark Cloud Cover pattern that set up in September.  Pay very close attention to the Fibonacci Price Amplitude Arcs that also show key resistance playing out near the recent peaks. Finally, don't forget to read our Grey Swan Alert in October's issue of TradersWorld…Read the Entire Article (click here)
THIS WEEK IN MONEY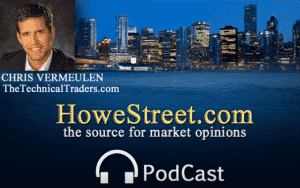 The markets remain in a bullish trend in the short-term, however, the trend is relying almost exclusively on a few select sectors and is not sustainable from a long-term perspective. The bond markets are suffering from low interest rates and it will be seen if bonds remain the safe-haven asset for investors during a market down-turn. Gold, silver, and the miners look to have a great year in 2021. Listen to Chris starting at 12:00 to hear his views on the US and CDN dollars, copper, and bitcoin with Jim Goddard on 'This Week in Money'…Read the Entire Article (click here)
DOJI CLUSTERS SHOW CLEAR SUPPORT RANGES ON THE S&P500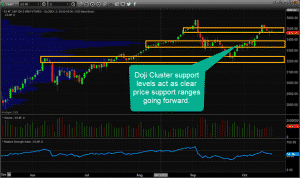 Clusters of Doji shaped candles have, for centuries, illustrated very clear levels of support/resistance in price action.  Whenever multiple Doji candles appear in a cluster-like formation, traders should pay attention to these levels as future support/resistance ranges for price action.  In the case of the S&P500 E-Mini Futures Daily Chart, we can clearly see three separate support zones – the highest one being right where price closed on Friday (near 3475).
As the US elections near, we do expect increased volatility to become a factor in the US markets.  Currently, our predictive modeling systems are suggesting a Bullish trend bias is in place in the markets.  Therefore, we expect the bias of the trend to continue to push higher.  Yet, these Doji Cluster support levels become very clear downside targets if increased volatility prompts any broad market rotation over the next few days/weeks. These three levels are :
3445~3495

3330~3390

3185~3225
We are suggesting that IF any deeper market rotation takes place, support near these Doji Cluster levels would likely act as a major price floor – prompting some price support and a potential for a quick upside price reversal near these levels.  If the lowest level, near 3200, is breached by deeper price rotation, then a new price correction phase may setup…Read the Entire Article (click here)
CRUDE OIL STALLS IN RESISTANCE ZONE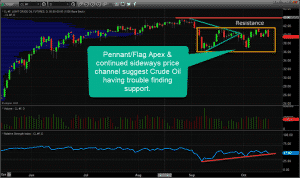 In this report, I discuss the recent price action in crude oil and how economic conditions and the pennant flag chart pattern is indicating a big price move is about to take place over the next few weeks.  While some of you may want a clear, bold prediction as to whether a breakout or breakdown may happen, as technical traders, our job is to predict different possible setups and identify the criteria that will tell us when to enter the trade upon confirmation. Read below to learn more.
Crude Oil has continued to retest the $41.75 to $42.00 resistance level over the past 30+ days. My research team believes this represents a very clear indication that further failure to advance above this level will prompt a moderate price decline – likely breaking below the $36.00 ppb price level.
We believe the completed Pennant/Flag Apex, highlighted in Light Green on the Crude Oil Futures chart below, represents a technical pattern suggesting a new price trend is pending.  The recent sideways price action, highlighted by the Gold Rectangle on this chart, shows the range of price recently that is currently presenting a very clear support level (near $36) and a very clear resistance level (near $42)...Read the Entire Article (click here)
STEPPING GAP PATTERNS MAY SUGGEST UPSIDE BREAKOUT PENDING IN NATURAL GAS/UNG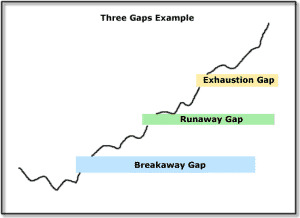 An upward stepping GAP pattern for UNG and Natural Gas has our research team believing a strong upside price breakout may be pending. We believe the open gap patterns, which are below the current price levels, represent a building momentum based/bottom that has setup in UNG.  This pattern, if we are correct, may prompt a big breakout move in the near future.
THREE GAPS PATTERN & MOMENTUM BASE COMPLETE – WHAT NEXT?
These GAP patterns are similar to a Japanese Candlestick pattern called "Three Gaps".  A Three Gaps pattern is typically associated with trending and suggests an exhaustion top may be near.  It is represented by three very clear open price gaps in a defined trend (up or down), as can be seen in the chart below...Read the Entire Article (click here)
FINANCIAL (XLF) AND BANKING (KRE) SECTORS ENTER FULL BLOWN BEAR MARKET
With the SP500 making new highs the financial and banking sectors have entered a full-blown bear market.  Companies like JP Morgan who do share buybacks and have a killer trading division (which masks other suffering divisions) are expected to survive, but with credit card and mortgage defaults increasing daily this sector is expected to continue suffering for a while longer.  Watch my video below to learn more…Read the Entire Article (click here)
COMMODITY BULL MARKET CYCLE STARTS WITH EURO AND DOLLAR TREND CHANGES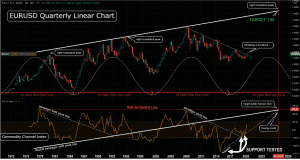 In this report, I would like to show you how currency values play an important role in the price of commodities like gold and silver. The analysis here is all about the EUR/USD currency pair to give you an idea of how they can help time and predict future price movement in metals. This is just one commodity pair out of several which provide similar insight and the more pairs that confirm, the stronger our signal and market timing will be.
Commodity bull eras do not need a strong Euro… but it definitely helps if the US Dollar weakens, as anything denominated in it like gold, silver, and oil will have a higher nominal value. 
There are a few interesting points to look at in the EUR/USD chart presented below. You will have keep scrolling down to look at the chart to see a visual of each technical analysis point I am sharing with you. The first thing you may notice is that the 16-year cycles for this forex currency pair are pretty harmonious. Usually, a single cycle like the one shown on this chart does not fit or overlay on an instrument this well because there are almost always more than one cycle at work skewing things, however, the cycle in this chart just happen to be very clean..Read the Entire Article (click here)
THIS WEEK'S MELT-UP TRIGGERED A SHORT SQUEEZE IN THE NASDAQ AND A UTILITIES BREAKOUT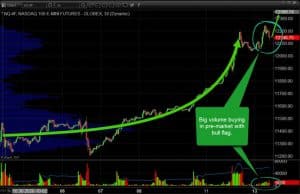 Rather quickly in trading late Sunday night, the NQ (NASDAQ E-Mini Futures) began to move higher quite consistently.  By the time the markets opened in London on Monday, the rally was ON.  We believe this is related to two underlying factors:
A.  Short positions were getting squeezed after the end of week rally in the markets last week.  The upside price pressure early in trading on Sunday/Monday likely forced many of these shorts out of the market – creating a Short Squeeze.
B.  Global traders may be interpreting a biased election victory by Donald Trump based on news events or other information.  This close to an election and with pending Q3 earnings just days away, a melt-up rally like this is fairly uncommon – unless you take into consideration that global investors may be pre positioning for an expected outcome….Read the Entire Article (click here)
MONEY TO BE MADE IN COMMODITIES OVER NEXT FIVE TO EIGHT YEARS
Professional trader and market commentator Chris Vermeulen returns to the MiningStockEducation.com to offer his insights on the markets. He foresees a huge opportunity to be made via commodity investing over the next five to eight years. Chris provides his analysis of GDXJ and shares common market patters that occur in a U.S. presidential election year. He also offers his commentary on the oil market and reveals his best trade of 2020 so far…Read the Entire Article (click here)
STICK WITH THE WINNERS LIKE CLEAN ENERGY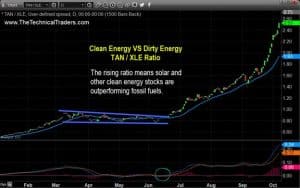 If I put the pandemic aside and ignore the current jobs picture there are many reasons that I am bullish stocks.  Housing continues to remain upbeat with sales near all-time highs and consumer confidence is rising, which means investors' sentiment will continue to trend higher. What is most important is that stocks that have outperformed in 2020 will likely continue to outperform. So my goal is to focus on the winners and avoid the laggers. 
It seems clear that investors don't seem to care who wins the election. Biden is up in the polls, and even though he has repeatedly said that he will raise taxes, the market does not seem to care. If Biden wins he will sign a huge stimulus bill and likely go for an enormous infrastructure spending bill that will propel stocks even higher. If President Trump is reelected, I also expect a stimulus bill with an eventual tax cut. While at Walter Reed Hospital, President Trump tweeted that if he wins he will push for the biggest tax cut in history. The bottom line is that regardless of who wins the presidency, stock prices are likely to continue to trend higher and ignore the weakening economic climate...Read the Entire Article (click here)
THE BEST AND WORST PERFORMING SECTORS ARE IN ENERGY – IS IT JUST A TRADE OR A LONG TERM TREND?
Chris shares his research on the best and worst performing sectors with Cory Fleck on the Korelin Economics Report on today's podcast. Chris highlights the solar ETF (TAN) and the clean energy ETF (PBW) as out-performers and the oil and uranium ETFs as under-performers by a long shot. The question for long term investors is how sustainable is this strong rally in the clean energy sectors?..Read the Entire Article (click here)
SPY ETF TESTING MARCH PRICE PEAK – WHAT DO THE CHARTS SAY?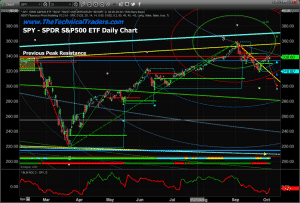 RESEARCH HIGHLIGHTS:
The SPY has been trading below its previous peak resistance level from March for more than two weeks and has begun to retest this level.

If the SPY can clear this level on moderately strong volume, we believe the US stock market may enter another "melt-up" phase.

If not, then we may see more of a sideways/melt-down phase headed into the US Presidential Elections.
The SPY, SPDR S&P 500 ETF, has been trading below the $339.50, previous peak resistance level, for more than two weeks recently and has begun to retest this level.  I believe these levels are critical in determining the future trending capacity of the SPY and the US stock market.  If the SPY can clear this level on moderately strong volume, we believe the US stock market may enter another "melt-up" phase.  If not, then we may see more of a sideways/melt-down phase headed into the US Presidential Elections...Read the Entire Article (click here)
LONG TERM CYCLES SUGGEST A STOCK PRICE REVERSION IS PENDING & GOLD IS ABOUT TO EXPLODE HIGHER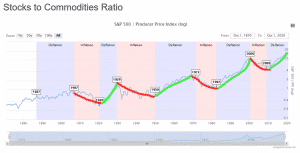 RESEARCH HIGHLIGHTS:
In the early 1900s, multiple events prompted a rising commodity price level and a decline in the Stocks to Commodities ratio. We expect commodities may begin to appreciate and where stock price levels may stall or decline.

We also believe we are currently nearing the end of a rising cycle in both Stocks to Commodities and S&P500 to Earnings ratios, suggesting a downward/sideways trend in the US stock market will continue while commodities attempt to form a longer-term momentum base.

The current 100-year Gold cycle suggests a Recovery phase is nearly complete and we should expect an Appreciation phase to begin within 2 years (or less). Historically, the Appreciation phase prompts a 200% to 300%+ rally in Gold prices.
My research team and I have been pouring over the long-term data related to the current global markets and central bank efforts to support the global economy in the midst of the COVID-19 pandemic… and we have some keen insights I would like to share with you.  This research article highlights historical chart phases and trends and shows you how important it is to pay attention to cycles and Super-Cycle events as they continue to trend...Read the Entire Article (click here)
GOLD AND SILVER FOLLOW UP & FUTURE PREDICTIONS FOR 2020 & 2021 – PART II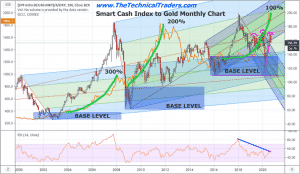 This second part of our research post on super-cycles and precious metals will present our expectations going forward for 6 to 24+ months.  In Part I of this research post, I linked a number of our previous research articles we recommended to readers to review for context and continuity. If you have not read Part I of this research article, please take a minute to review that first segment before you continue reading this second segment of our research.
TECHNICAL CYCLES & MORE
There is a technical cycle that is taking place as stocks and Gold appreciate.  In the first phase, there is a basing process in both the stock market and Gold (sometimes not happening at the same time).  From this basing level, the stock market begins to rally and Gold begins to appreciate as well.
In the second phase, the stock market rallies to a peak which prompts some degree of selling.  This selling spills over into Gold and Silver; panic selling usually spills over to Gold and Silver immediately, putting price pressure on these precious metals.  In other words, when broad market selling takes place, Gold and Silver are not immune from this panic type of downside price event and suffer accordingly. However, they react differently weeks and months after this type of price correction….Read the Entire Article (click here)
GOLD AND SILVER FOLLOW UP & FUTURE PREDICTIONS FOR 2020 & 2021 – PART I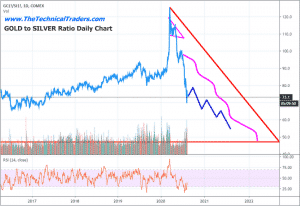 RESEARCH HIGHLIGHTS:
Uncertainty and cycle events will likely lead to continued Gold and Silver price appreciation until the cycle events end (likely in 2024 or 2025).

The gold/silver ratio chart shows very clear levels of support and resistance. With the next targets $2,000-$2,250, $3,200 then $5,500+.

Extended basing may continue for the next 2 to 4+ months.
I have received many comments and questions related to our Gold and Precious Metals predictions originating from research posts we have made recently.  Today's research article is Part 1 of a two-part series, which will revisit some of our past forecasts and showcase what my research team and I believe will be the most likely outcome for Gold as we push through the end of 2020 and into early 2021...Read the Entire Article (click here)
IS THE TRANSPORTATION INDEX SETTING UP A TOPPING PATTERN?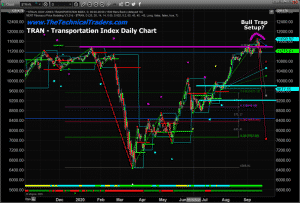 RESEARCH HIGHLIGHTS:
The Transportation Index, has been unusually aligned with the S&P 500 over the past 8+ months.

Classic Japanese Candlestick top/sell reversal "Three Rivers Evening Star topping pattern" setting up.

We may see a much bigger downside price move where price attempts to find support near 9,800 or 9,200.
The Transportation Index, which typically leads the US stock market by 2 to 4+months, has been unusually aligned with the S&P 500 over the past 8+ months.  Recently, though, the Transportation Index has rallied up to recent new all-time highs (over the past 9+ months) and has rotated lower – below resistance near 11,440 (the MAGENTA LINE on the first chart).  Our researchers are warning us that any continued breakdown below this level could prompt a bigger downside market move….Read the Entire Article (click here)
CHRIS SPEAKS WITH CRUSH THE STREET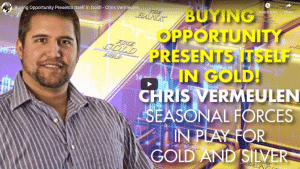 Chris joins Kenneth from Crush The Street to talk about the recent market activities, which is largely being driven by news events. Topics discussed include:
GOLD SETTING UP JUST LIKE BEFORE THE COVID-19 BREAKDOWN – GET READY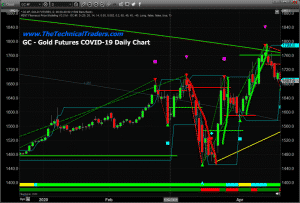 RESEARCH HIGHLIGHTS:
Gold rebounded quickly and broke to higher prices after the COVID deep selling.

Our Fibonacci support levels for Gold are resting near $1,885, $1,815 & $1,790.

More downside pressure on price is possible, but if support is maintained at $1,885 then we could see a big upside recovery trend take Gold to $2,250.
Just before the COVID-19 collapse in the markets hit near February 25, 2020, Gold started a double-dip move after reaching $1,692 on February 24.  First, Gold dipped from $1,692 to $1,564, then recovered to new highs ($1,704.50) on March 10, 2020.  Then, as the deeper COVID-19 selling continued, Gold prices dipped again – this time targeting a low level of $1,450.90.
What we found interesting is how quickly Gold prices recovered and broke to even higher price levels after this deep selling.  Our belief is that when a crisis event first hits, which we sometimes call the "shock-wave", all assets take a beating – including Gold and Silver.  This is the event where traders and investors pull everything to CASH (closing positions).  Then, as the shock-wave ends, traders re-evaluate the price levels of assets to determine how they want to deploy their capital..Read the Entire Article (click here)
HOW TO DECIPHER RECENT MARKET ACTIVITY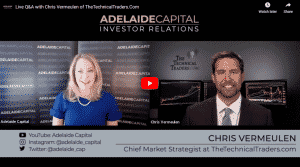 Yesterday Chris Vermeulen, Founder and Chief Market Strategist for The Technical Traders, held two webinars and Q&A sessions with Adelaide Capital and RTD. These interactive sessions will help you decipher what has been happening in the markets over the past few trading sessions, and what to look out for next.
In this first Q&A webinar, Chris joins Deborah Honig Adelaide Capital to answer questions about the market over the past few trading sessions, what is going on with Gold, Silver and the Miners, etc…Read the Entire Article (click here)
US STOCK MARKET ENTERS PARABOLIC PRICE MOVE – BE PREPARED, PART I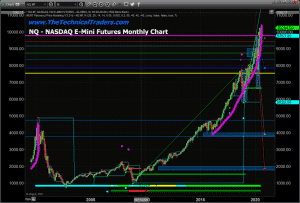 After the recent COVID-19 virus event and the global market concerns that will warrant caution for skilled traders and investors, the US stock markets have entered an upside parabolic trend that will likely end with a massive price collapse – extremely volatile and aggressive in nature.  Our research team continues to warn of the unpredictable nature of the current price rally and the fact that the upside parabolic price trend appears more prominent in the NASDAQ sector.  If history has taught us anything, it is that these types of parabolic moves can last a while and that they always end in a deep downside price correction – usually 61% to 75% of the last upside price trend.
Our research and trading team has been advising friends and followers to stay very cautious of the current markets (excluding Gold, Miners, and certain other protective sectors).  We don't believe this rally warrants any exposure greater than 15 to 20% given the current global economic environment and the hyper-parabolic nature of the current price move.  We believe the opportunity presented by the upside advances does not negate the potential risks of a massive collapse event taking place in the near future.  In other words, we're more cautious of how ugly and aggressive the end of this parabolic move will be than willing to try to find some opportunities in an already hyper-extended parabolic upside price trend.…Read the Entire Article (click here)
GOLD & SILVER BEGIN THE MOVE TO NEW ALL-TIME HIGHS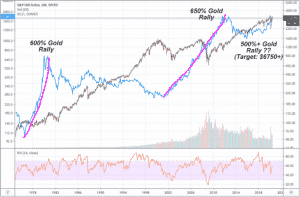 What we really want you to focus on is the fact that Gold is rallying to levels above $1800 (near all-time highs) while the US stock market has entered an upside parabolic price trend.  What does it mean when metals are rallying and the stock market is rallying at the same time?  The supply-side of precious metals has been restricted because of the COVID-19 virus event and central banks have been accumulating Gold and Silver over the past 7+ years by large amounts.  This suggests central banks and precious metals traders believe metals prices will continue to skyrocket while the risks to the equities markets, credit markets, and global economy increases.
Gold prices climbed in the early 2000s after the DOT COM bubble burst (starting to rise in 2002).  The US stock market eventually bottomed near April 2003 – yet Gold continued to rally from near the $281 level to $992 in early 2008 – a massive +665% over just 5 years….Read the Entire Article (click here)
US DOLLAR HAS A LOT OF UPSIDE POTENTIAL – PART III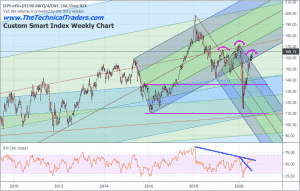 This is the final part of our three-part US Dollar research article. My research team's belief is that the US Dollar will recover in value before the US Presidential Election, then stall right before the election date as traders attempt to digest the outcome of the election.  In this final part of our research article, we're going to share insights and technical analysis setups that we believe support our predictions on the US Dollar.  Please take a minute to review Part I and Part II of this research series if you have missed any portion of it. 
Our research team has highlighted a price pattern in the US Dollar that seems to be fairly consistent over the past 8+ years.  This pattern suggests the US Dollar will move higher over the next 60+ days, which may likely correlate with the US stock market stalling and/or moving lower. Just prior to the November 3, 2020 election date, the US Dollar should stall as global traders and investors await the results. After the election is complete, then we watch the scramble as global traders and investors attempt to reposition assets to take advantage of perceived opportunities….Read the Entire Article (click here)
FANG INDEX NEARING CRITICAL SUPPORT – COULD BREAKOUT AT ANY MOMENT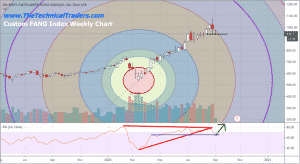 RESEARCH HIGHLIGHTS:
The washout-low price move in FANG stocks may present a needed rotation in price before another upside move sets up.

Tweezer Bottoms pattern and RSI pennant formation suggest very clear support levels. 

Watch how Volume and the VIX pick up over the next few days, and how price reacts to this bounce at 945. 
Our Custom FANG Index (consisting of Facebook, Microsoft, Twitter, Amazon, Google, and Nvidia) shows the FANG Index, and technology sector, are trading just above critical support near 945.  The congestion area on this chart between July and August just below this 945 level highlights the key resistance/support level that we are currently watching as price support. …Read the Entire Article (click here)
CRUDE OIL BREAKS LOWER – SPARKING FEARS OF ANOTHER SUB $30 PRICE COLLAPSE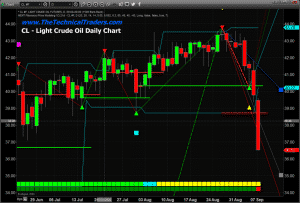 RESEARCH HIGHLIGHTS:
Breakdown in Crude Oil sparks talk of sub $30 price targets.

Initial support likely near $32 to $33.

Predictive Modeling suggests deeper price lows may be reached before November 2020.
Have you been paying attention to Crude Oil recently?  Prices have collapsed over -15% from the recent highs near $43.78. You may remember a research article I posted originally in July 2019 suggesting a big breakdown in Crude Oil was going to take place in early 2020 and extreme volatility was likely between February 2020 and April 2020.  Our researchers predicted the following within that research article:
"If our ADL predictive modeling is correct, we will see rotation between $47 and $64 over the next 3+ months before a breakdown in price hits in November 2019.  This will be followed by two fairly narrow price range months (December 2019 and January 2020) where oil prices will tighten near $45 to $50.  After that tightening, we believe an extremely volatile price move will happen in February through April 2020 that could see oil prices trade as low as $22 and as high as $51 over a two to three-month span."..Read the Entire Article (click here)
TRADERS' DREAMS COME TRUE – BIG TECHNICAL PRICE SWINGS PENDING ON SP500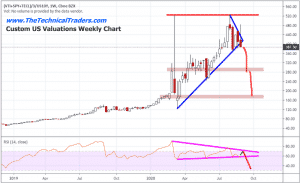 RESEARCH HIGHLIGHTS:
A potentially critical price inflection point and technical pattern setup that has nearly completed and validated over the past few days, weeks, and months.

Potential flag/pennant formation on our Custom Valuations Index Weekly Chart shows a possible 11% to 16% (or more) downside price correction in SPY.

Fibonacci Price Modeling system's projects SPY downside target level near $284.50 before a bounce.
Over the past few weeks and months, my team and I have published a series of research articles suggesting the continued market melt-up was driven by speculation and the US Fed's policies and support for the markets.  We've also highlighted a number of technical patterns that have setup within various symbols that have generated strong warnings of a potential price reversal over the past few weeks.  The biggest pattern has been the Head-and-Shoulders price patterns.  The sudden downside price move in the NASDAQ, and other markets, last week caught many traders/investors off-guard.  One day after a very strong rally in the US stock markets, the price reversed and sold-off nearly 6% – a shocking reversal of trend…Read the Entire Article (click here)
The gold standard sooner or later will return with the force and inevitability of natural law, for it is the money of freedom and honesty." — Hans Sennholz
Those entrapped by the herd instinct are drowned in the deluges of history. But there are always the few who observe, reason, and take precautions, and thus escape the flood. For these few gold has been the asset of last resort." — Antony C. Sutton
"Borrowers will default. Markets will collapse. Gold (the ultimate form of safe money) will skyrocket." — Michael Belkin
"I like gold because it is a stabilizer; it is an insurance policy." – Kevin O'Leary