GOLD SETTING UP JUST LIKE BEFORE THE COVID-19 BREAKDOWN – GET READY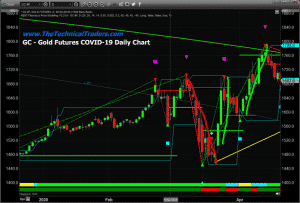 RESEARCH HIGHLIGHTS:
Gold rebounded quickly and broke to higher prices after the COVID deep selling.

Our Fibonacci support levels for Gold are resting near $1,885, $1,815 & $1,790.

More downside pressure on price is possible, but if support is maintained at $1,885 then we could see a big upside recovery trend take Gold to $2,250.
Just before the COVID-19 collapse in the markets hit near February 25, 2020, Gold started a double-dip move after reaching $1,692 on February 24.  First, Gold dipped from $1,692 to $1,564, then recovered to new highs ($1,704.50) on March 10, 2020.  Then, as the deeper COVID-19 selling continued, Gold prices dipped again – this time targeting a low level of $1,450.90.
What we found interesting is how quickly Gold prices recovered and broke to even higher price levels after this deep selling.  Our belief is that when a crisis event first hits, which we sometimes call the "shock-wave", all assets take a beating – including Gold and Silver.  This is the event where traders and investors pull everything to CASH (closing positions).  Then, as the shock-wave ends, traders re-evaluate the price levels of assets to determine how they want to deploy their capital..Read the Entire Article (click here)
HOW TO DECIPHER RECENT MARKET ACTIVITY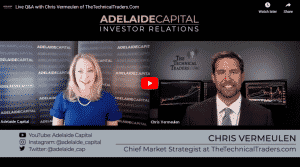 Yesterday Chris Vermeulen, Founder and Chief Market Strategist for The Technical Traders, held two webinars and Q&A sessions with Adelaide Capital and RTD. These interactive sessions will help you decipher what has been happening in the markets over the past few trading sessions, and what to look out for next.
In this first Q&A webinar, Chris joins Deborah Honig Adelaide Capital to answer questions about the market over the past few trading sessions, what is going on with Gold, Silver and the Miners, etc…Read the Entire Article (click here)
US STOCK MARKET ENTERS PARABOLIC PRICE MOVE – BE PREPARED, PART I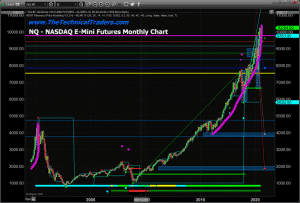 After the recent COVID-19 virus event and the global market concerns that will warrant caution for skilled traders and investors, the US stock markets have entered an upside parabolic trend that will likely end with a massive price collapse – extremely volatile and aggressive in nature.  Our research team continues to warn of the unpredictable nature of the current price rally and the fact that the upside parabolic price trend appears more prominent in the NASDAQ sector.  If history has taught us anything, it is that these types of parabolic moves can last a while and that they always end in a deep downside price correction – usually 61% to 75% of the last upside price trend.
Our research and trading team has been advising friends and followers to stay very cautious of the current markets (excluding Gold, Miners, and certain other protective sectors).  We don't believe this rally warrants any exposure greater than 15 to 20% given the current global economic environment and the hyper-parabolic nature of the current price move.  We believe the opportunity presented by the upside advances does not negate the potential risks of a massive collapse event taking place in the near future.  In other words, we're more cautious of how ugly and aggressive the end of this parabolic move will be than willing to try to find some opportunities in an already hyper-extended parabolic upside price trend.…Read the Entire Article (click here)
GOLD & SILVER BEGIN THE MOVE TO NEW ALL-TIME HIGHS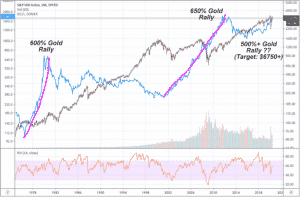 What we really want you to focus on is the fact that Gold is rallying to levels above $1800 (near all-time highs) while the US stock market has entered an upside parabolic price trend.  What does it mean when metals are rallying and the stock market is rallying at the same time?  The supply-side of precious metals has been restricted because of the COVID-19 virus event and central banks have been accumulating Gold and Silver over the past 7+ years by large amounts.  This suggests central banks and precious metals traders believe metals prices will continue to skyrocket while the risks to the equities markets, credit markets, and global economy increases.
Gold prices climbed in the early 2000s after the DOT COM bubble burst (starting to rise in 2002).  The US stock market eventually bottomed near April 2003 – yet Gold continued to rally from near the $281 level to $992 in early 2008 – a massive +665% over just 5 years….Read the Entire Article (click here)
US DOLLAR HAS A LOT OF UPSIDE POTENTIAL – PART III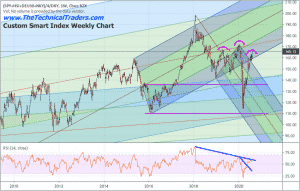 This is the final part of our three-part US Dollar research article. My research team's belief is that the US Dollar will recover in value before the US Presidential Election, then stall right before the election date as traders attempt to digest the outcome of the election.  In this final part of our research article, we're going to share insights and technical analysis setups that we believe support our predictions on the US Dollar.  Please take a minute to review Part I and Part II of this research series if you have missed any portion of it. 
Our research team has highlighted a price pattern in the US Dollar that seems to be fairly consistent over the past 8+ years.  This pattern suggests the US Dollar will move higher over the next 60+ days, which may likely correlate with the US stock market stalling and/or moving lower. Just prior to the November 3, 2020 election date, the US Dollar should stall as global traders and investors await the results. After the election is complete, then we watch the scramble as global traders and investors attempt to reposition assets to take advantage of perceived opportunities….Read the Entire Article (click here)
FANG INDEX NEARING CRITICAL SUPPORT – COULD BREAKOUT AT ANY MOMENT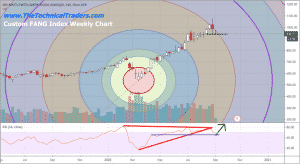 RESEARCH HIGHLIGHTS:
The washout-low price move in FANG stocks may present a needed rotation in price before another upside move sets up.

Tweezer Bottoms pattern and RSI pennant formation suggest very clear support levels. 

Watch how Volume and the VIX pick up over the next few days, and how price reacts to this bounce at 945. 
Our Custom FANG Index (consisting of Facebook, Microsoft, Twitter, Amazon, Google, and Nvidia) shows the FANG Index, and technology sector, are trading just above critical support near 945.  The congestion area on this chart between July and August just below this 945 level highlights the key resistance/support level that we are currently watching as price support. …Read the Entire Article (click here)
CRUDE OIL BREAKS LOWER – SPARKING FEARS OF ANOTHER SUB $30 PRICE COLLAPSE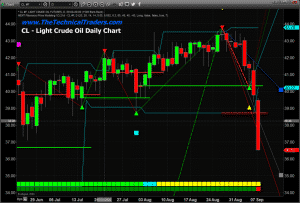 RESEARCH HIGHLIGHTS:
Breakdown in Crude Oil sparks talk of sub $30 price targets.

Initial support likely near $32 to $33.

Predictive Modeling suggests deeper price lows may be reached before November 2020.
Have you been paying attention to Crude Oil recently?  Prices have collapsed over -15% from the recent highs near $43.78. You may remember a research article I posted originally in July 2019 suggesting a big breakdown in Crude Oil was going to take place in early 2020 and extreme volatility was likely between February 2020 and April 2020.  Our researchers predicted the following within that research article:
"If our ADL predictive modeling is correct, we will see rotation between $47 and $64 over the next 3+ months before a breakdown in price hits in November 2019.  This will be followed by two fairly narrow price range months (December 2019 and January 2020) where oil prices will tighten near $45 to $50.  After that tightening, we believe an extremely volatile price move will happen in February through April 2020 that could see oil prices trade as low as $22 and as high as $51 over a two to three-month span."..Read the Entire Article (click here)
TRADERS' DREAMS COME TRUE – BIG TECHNICAL PRICE SWINGS PENDING ON SP500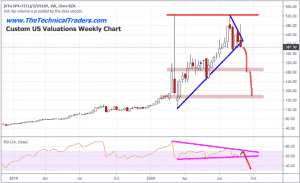 RESEARCH HIGHLIGHTS:
A potentially critical price inflection point and technical pattern setup that has nearly completed and validated over the past few days, weeks, and months.

Potential flag/pennant formation on our Custom Valuations Index Weekly Chart shows a possible 11% to 16% (or more) downside price correction in SPY.

Fibonacci Price Modeling system's projects SPY downside target level near $284.50 before a bounce.
Over the past few weeks and months, my team and I have published a series of research articles suggesting the continued market melt-up was driven by speculation and the US Fed's policies and support for the markets.  We've also highlighted a number of technical patterns that have setup within various symbols that have generated strong warnings of a potential price reversal over the past few weeks.  The biggest pattern has been the Head-and-Shoulders price patterns.  The sudden downside price move in the NASDAQ, and other markets, last week caught many traders/investors off-guard.  One day after a very strong rally in the US stock markets, the price reversed and sold-off nearly 6% – a shocking reversal of trend…Read the Entire Article (click here)
WILL BONDS CONTINUE TO BE A SAFE HAVEN IN THE NEAR FUTURE?
Chris speaks with Jim Goddard about gold, silver, bonds, interest rates, and whether we should expect a market correction or market crash. Bonds and the US $ are under pressure and there is talk in the Street of negative interest rates in the US for 2021! Precious metals, and gold in particular, are the best option for those that want a safe asset for the near future...Read the Entire Article (click here)
BITCOIN DOWN ALMOST 10% TODAY, YOU'LL BE SURPRISED TO HEAR WHAT'S NEXT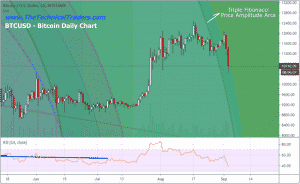 RESEARCH HIGHLIGHTS:
Bitcoin collapsed near Triple Fib Amplitude Arcs – is this a sign of pending reversal for other assets?

It is very likely that Bitcoin price levels will fall below the May through July levels, near $9k in an attempt to identify new support levels. The $8k level would be the next downside price target.  Beyond that, possibly $7k or even $6k.

Gold and Silver will move lower before going higher as a potential price collapse in Bitcoin suggests general market fear is hitting all global assets.

As other assets decline in valuation levels, the US Dollar will likely be viewed as the strongest currency to own and rise.
Many of you are familiar with my team's advanced study of Fibonacci Price Theory and our use of our proprietary Fibonacci Price Amplitude Arc indicators.  This technical analysis theory is a combination of Nikola Tesla's Mechanical Resonance theory and traditional Fibonacci Price Theory.  We believe the innate frequency of price action (once found), can be used to identify future critical inflection points in price.  In this case with Bitcoin, three unique Fibonacci Price Amplitude Arcs aligned within 5 days to present a very real price inflection point.  The recent collapse in the price of Bitcoin may be inherently related to the frequency of price from past peaks and troughs using our advanced Fibonacci Price Theory..…Read the Entire Article (click here)
SHOULD YOU BE CONCERNED ABOUT THE BIG DOWNSIDE ROTATION IN THE US MARKETS?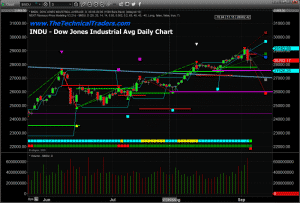 RESEARCH HIGHLIGHTS:
Don't panic.  Technical Analysis does not confirm a deeper price correction at this time, nor does this appear to be the Bull-Trap we have been warning about… yet.

We are waiting until next week to see if price confirms any new trend.

Volatility should decrease if this is just a moderate price rotation.
Is this the "Bull-Trap" setup we have been warning about for some time now?  Should traders be concerned about deeper downside price trends or a collapse in the markets?
We believe this current downside price rotation is just a well deserved (and somewhat overdue) price rotation related to the recent advance in stock valuations.  Currently, the VIX is moving lower and the volume in the markets is suggesting the deepest part of this price move may be over (for now).  Bonds are moving lower while precious metals are moderately higher.  We don't believe this current downside price move has any more momentum left – at least headed into the long holiday weekend.…Read the Entire Article (click here)
SPX TO GOLD/SILVER RATIOS EXPLORED – WHAT TO EXPECT NEXT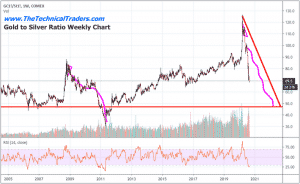 RESEARCH HIGHLIGHTS:
A Phase II rally in metals is just getting ready to start.

Phase II rallies are very explosive and tend to enter Parabolic trends.

Gold could rally 250% to 350% over the next several years.

Silver could rally 550% to 750% over the next several years.
My research team and I started exploring the relationship between the Gold-to-Silver ratio and the S&P 500 to find trends in Metals and the US Stock Markets.  We called the collapse in the Gold-to-Silver ratio accurately back in March 2020, and we believe the current setup in the S&P to the Gold-to-Silver ratio shows the move in Precious Metals is far from over. …Read the Entire Article (click here)
STOCKS IGNORING ECONOMIC DATA, A MELTDOWN IS COMING, WHAT NOW?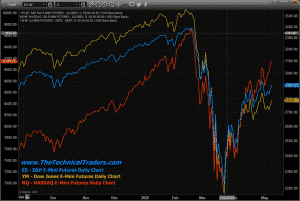 Many months ago, our research team suggested any future collapse in the global markets would likely prompt a global capital shift in how capital identifies and is deployed for ROI.  We've continued to suggest that the more mature, global economies will become beneficiaries of any massive global collapse event and that capital will actively seek out security and safety while attempt to attain moderate returns.  We suggest reading this past research post on global central banks moves to keep the party rolling.
In 2019, we predicted a major Super-Cycle event would take place on or near August 19, 2019.  We believed this event would prompt a major downside price rotation that would prompt a shift in how capital is deployed throughout the world's financial markets.  At that time, and still, we believe a long-term price cycle event is taking place which will prompt a deeper price bottom event that will likely complete near August or September 2020.  This raises an interesting setup related to Technical Analysis for skilled traders…Read the Entire Article (click here)
NATURAL GAS RALLY NEARING $2.95 RESISTANCE – MAY TARGET $3.75 OR HIGHER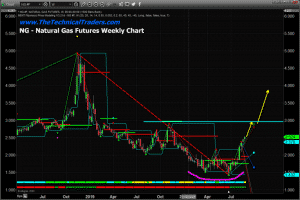 Quietly, as we've been focused on Gold, Silver, and other symbols, Natural Gas has rallied above the $2.00 level and is starting to break higher again targeting the $2.95 level.  The very deep "rounded bottom" pattern that set up in early 2020 presented a very real opportunity for skilled technical traders by setting up multiple, very deep entry points.  We wrote about these setups in a May article when Natural Gas broke $2.00 and again a few weeks ago when NG started its upside breakout move.
The current rally as seen in the chart below appears to be stalling near the $2.50~$2.55 level, which goes all the way back to the Fibonacci Predictive Modeling System trigger levels from April 2020 and October 2020 (see the RED LINES on the chart).  We believe any stalling price levels near the $2.55 level will breakout to the upside with a further rally attempting to target the $2.95 level.  After that level is reached, there is a potential that a further upside price move may take place, but we would urge skilled traders to consider the $2.85 to $2.95 level as the "pull profit" level.  Any further leg higher may, or may not, actually happen….Read the Entire Article (click here)
HIGH-FLYING COVID-19 SECTORS MAY BE SETTING UP FOR A CORRECTION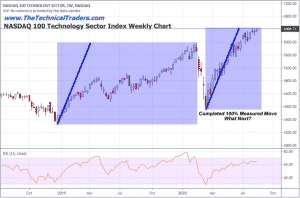 Our research team believes the transitional process of upgrading and setting up remote/home offices took place as consumers initially began to transition away from the Office.  Initially, the $1,200 stimulus many received likely piled into technology and upgrades. Those of us who started to work from home needed to upgrade equipment and technology to address video conferencing and more.  Many consumers also splurged on furniture, accessories, and other equipment to create our own "work-from-home paradise". Corporations also increased their technology spend in this period to accommodate a fully remote workforce.
This new spending translated into a slew of online and in-person sales.  One of our research team members recounted a story about visiting a local computer store shortly after the $1,200 stimulus checks arrived into the public's hands and how the store owner stated: "we've seen a huge wave of $1,200 purchases over the past week or so – guess where those came from". That same computer store last Thursday afternoon still had a line of people in front (understanding it is limiting the number of people into the store) and it didn't appear that they were hurting for business….Read the Entire Article (click here)
SPECIAL ALERT: MASSIVE DUAL HEAD-AND-SHOULDERS SETUP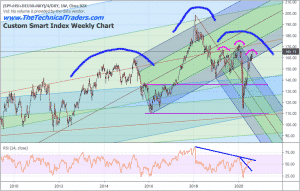 Summary:
Dual Head-and-Shoulders patterns warn of a potentially big downside move and new highs may be a trap for bulls
Valuation levels suggest the broader US stock market is lagging
Precious metals continue to warn of risks
The market "melt-up" may be nearing an end
My research team is issuing a Special Alert Warning after the NASDAQ and SPY reached new all-time highs.  Our research team identified a massive Head-and-Shoulders pattern (highlighted in BLUE) that originated in 2014, set up a "head" in 2018, and is now forming a "right shoulder" spanning 2019 and 2020.  Additionally, a minor Head-and-Shoulders pattern is setting up on the right side of the chart below (highlighted in MAGENTA) that peaks in early February 2020 – just before the COVID-19 price collapse.  Will this dual Head-and-Shoulders pattern prompt a massive downside price move over the next few weeks and months, or will the US stock market continue to rally higher – breaking the resistance level the shorter-term "head" (near $174) and keep going?….Read the Entire Article (click here)
ADAPTIVE FIBONACCI PRICE MODELING SYSTEM SUGGESTS MARKET PEAK MAY BE NEAR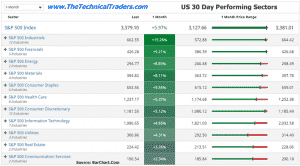 Our Adaptive Fibonacci Price Modeling system is suggesting a moderate price peak may be already setting up in the NASDAQ while the Dow Jones, S&P500, and Transportation Index continue to rally beyond the projected Fibonacci Price Expansion Levels.  This indicates that capital may be shifting away from the already lofty Technology sector and into Basic Materials, Financials, Energy, Consumer Staples, Utilities, as well as other sectors.
This type of a structural market shift indicates a move away from speculation and towards Blue Chip returns. It suggests traders and investors are expecting the US consumer to come back strong (or at least hold up the market at least) over the next 6+ months…Read the Entire Article (click here)
GAP FILLS SUGGEST MARKET MOMENTUM MAY STALL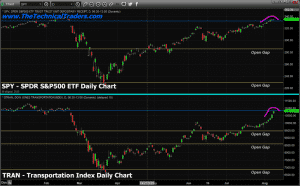 Technical Analysis teaches us that price Gaps tend to be filled by future price action.  This is not something new for many of our readers, whom may be familiar with our mantra 'Gaps always get filled!'.  The big Gap created near February 24, 2020, the start of the COVID-19 market collapse, has recently been filled in the SPY and the TRAN (Transportation Index).  We believe this "filling of the Gap" may be a sign that the upside market trend may begin to stall and potentially reverse. 
Yesterday, we highlighted the potential for a continued upside bullish trend in the SPY pushing possibly 2% to 4% higher based on our Measured Move technique in our article entitled "President Trump Signs Additional Covid Relief – What to Expect From the Markets".  Today, with the TRAN gapping higher to fill the February 24, 2020, price Gap, we believe the upside move may be exhausting itself and nearing a period of congestion or reversal…Read the Entire Article (click here)
GOLD SET TO GO HIGHER… BUT WATCH OUT!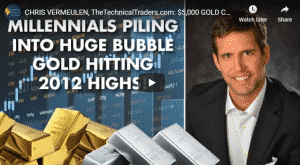 Chris is interviewed by Michelle Holiday of Portfolio Wealth Global and is asked about predictions for Gold prices in the future. The stage is set for gold to appreciate to $3,000 and beyond, but look out for this Red Flag before jumping into a trade! Chris also explores what investors can expect from stock market prices going forward….Read the Entire Article (click here)
WALK THROUGH THE GOLD AND SILVER CHARTS TO SEE WHAT TO EXPECT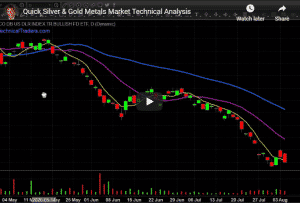 Check out the analysis of this morning's Gold and Silver charts by our own Chris Vermeulen, Chief Market Strategist and Founder of TheTechnicalTraders.com, to see what is in store for precious metals. Make sure you check out our Gold and Silver article from August 4th, 2020 for additional context behind our predictions and rationale for continued price appreciation…Read the Entire Article (click here)
REVISITING OUR SILVER AND GOLD PREDICTIONS – GET READY FOR HIGHER PRICES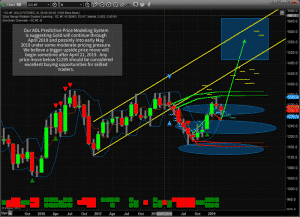 If you have been following our research into Gold and Silver over the past years, then you were already prepared for the recent rally that has taken many investors by surprise.  This year, 2020, Gold and Silver are set up to have their best year of price appreciation over the past 40+ years.  It is no consequence that this is taking place right now.  Our cycle research and our predictive modeling systems have helped us stay well ahead of this move.  In fact, way back in early 2019, we were already warning this type of price move would take place and suggesting a target price level of $3750 for Gold was not out of the question…Read the Entire Article (click here)
THE MARKETS POST COVID AND DEBT MONETIZATION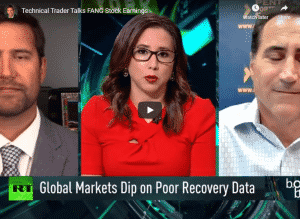 Chris joins Boom Bust host Sara Montes de Oca and Michael Pento of Pento Portfolio Strategies to talk FAANG, corporate earnings, the Feds, the growing US debt, and pandemic trading.  How will the markets react given permanent changes in how people work and live their lives? What will happen given the Feds strategy of debt monetization?…Read the Entire Article (click here)
NATURAL GAS BEGINS UPSIDE BREAKOUT MOVE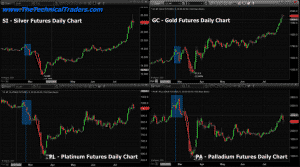 First, we want to say "It took long enough!" and we're happy to see this upside move in Natural Gas.  We had been calling this move for many months.  Our predictive modeling systems and cycle systems suggested the extended bottoming formation in Natural Gas was an excellent opportunity for skilled technical traders.  Today's big move suggests the downside price pressure is dissipating and a new bullish price trend may push Natural Gas prices above $2.85 quickly.
Our research team spotted this potential setup in April and May articles where we correctly predicted an NG rally in April (it did!) and new upside targets for NG in May. We have been keeping our subscribers up-to-date with UNG as this bottom has played out…Read the Entire Article (click here)
RETAIL TRADERS & INVESTORS SQUEEZED TO BUY HIGH-RISK ASSETS AGAIN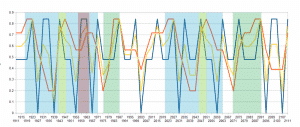 Yes, we certainly live in interesting times.  This, the last segment of our multi-part article on the current Q2 and Q3 2020 US and global economic expectations, as well as current data points, referencing very real ongoing concerns, we urge you to continue using common sense to help protect your assets and families from what we believe will be a very volatile end to 2020.  If you missed the first two segments of this research article, please take a moment to review them before continuing.
On May 24th, 2020, we published this research article related to our super-cycle research. It is critical that you understand what is really happening in the world as we move through these major 21 to 85+ year super-cycles and apply that knowledge to the data we have presented in the first two segments of this research post.  Within that article, we quoted Ray Dalio from a recent article published related to his cycle research…Read the Entire Article (click here)
The gold standard sooner or later will return with the force and inevitability of natural law, for it is the money of freedom and honesty." — Hans Sennholz
Those entrapped by the herd instinct are drowned in the deluges of history. But there are always the few who observe, reason, and take precautions, and thus escape the flood. For these few gold has been the asset of last resort." — Antony C. Sutton
"Borrowers will default. Markets will collapse. Gold (the ultimate form of safe money) will skyrocket." — Michael Belkin
"I like gold because it is a stabilizer; it is an insurance policy." – Kevin O'Leary